Menu
Online Shop -

(Detour / Coming Soon! / Work in Progress!)

Our current catalog of guaranteed 100% authentic celebrity autographs.

New Arrivals! - (Updated 04.29.15) Here's where you'll find the latest & greatest autographed offerings from Mike Warren Autographs.

Want Lists - Send your autograph "want list". Signed 3x5 cards are our specialty. We may have just what you're looking for.

Terms of Sale - Please read before ordering.

E-mail - Send your orders, inquiries, questions, comments and/or suggestions to Mike Warren Autographs.





















Buying, Selling, Trading & Authenticating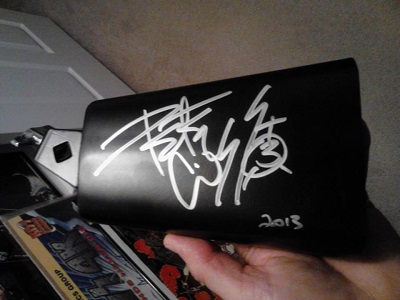 Peter Criss (KISS)
Cowbell signed & dated in-person in bold silver paint pen by "The Catman", the original drummer for the rock band KISS. Item includes a 100% lifetime guarantee of authenticity! $500.00
---
.
| | | |
| --- | --- | --- |
| Buckethead - Signed, numbered, hand-drawn CD $50.00 | Peter Criss (KISS) - Orig. vintage signed 8x10 solo project promo photo $50.00 | Sid Haig - Signed 5x7 mug shot from The Devil's Rejects $50.00 |
| What's Happening - Set of (4) 4x6 cards signed in-person by the cast including (d.) Fred Berry $150.00 | Donna Douglas (d.) - Signed 3x5 card from Elly May of The Beverly Hillbillies $50.00 | Journey - 9x11 backstage catering signage signed by all 5 band members $100.00 |